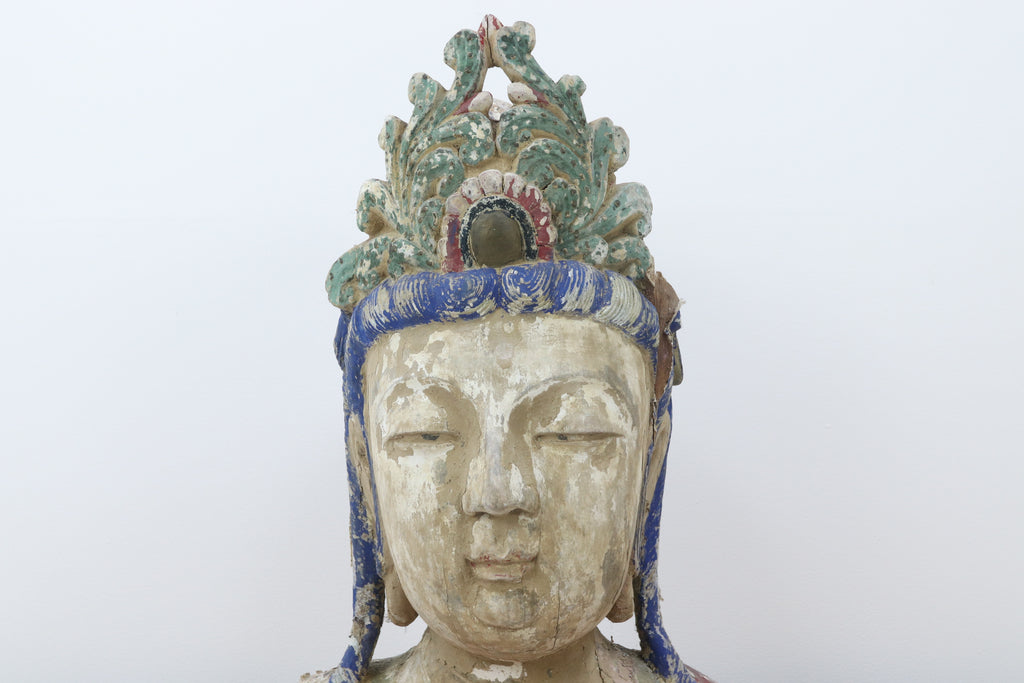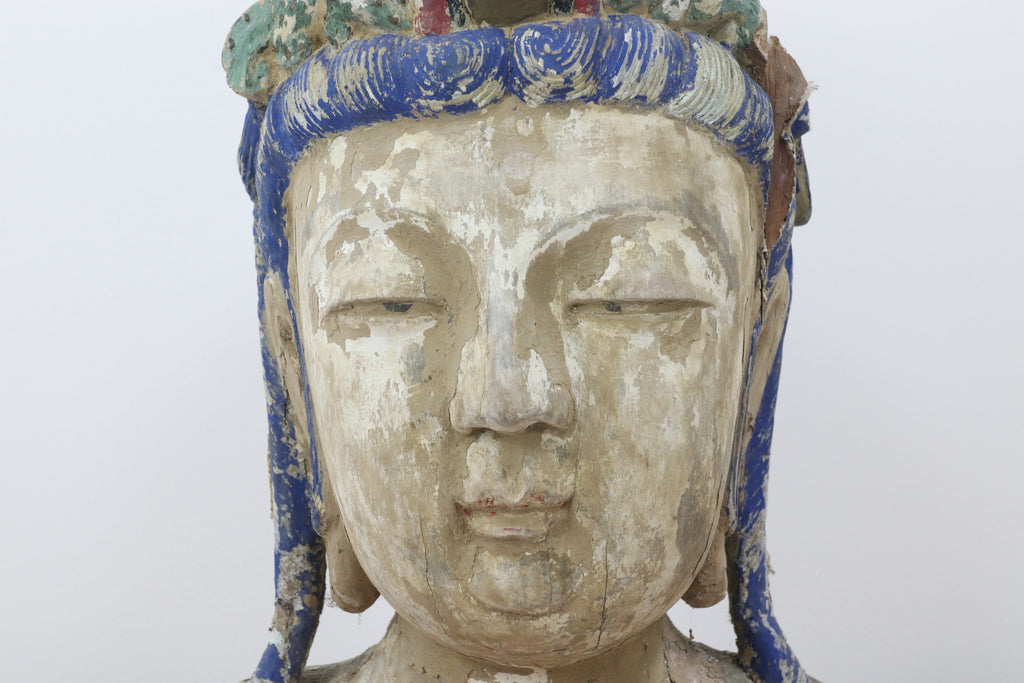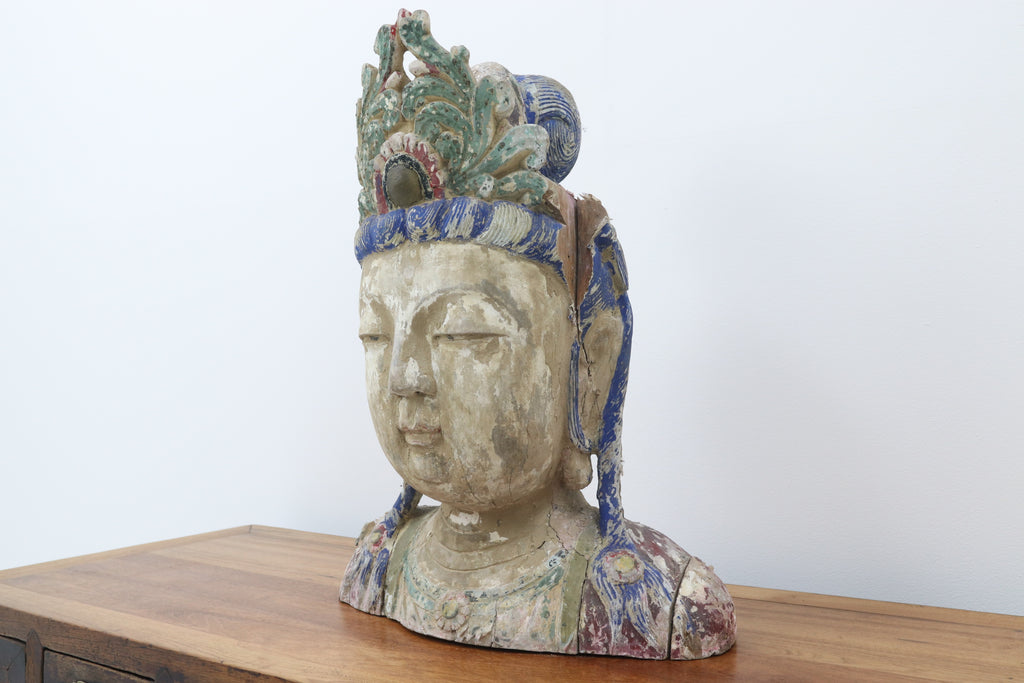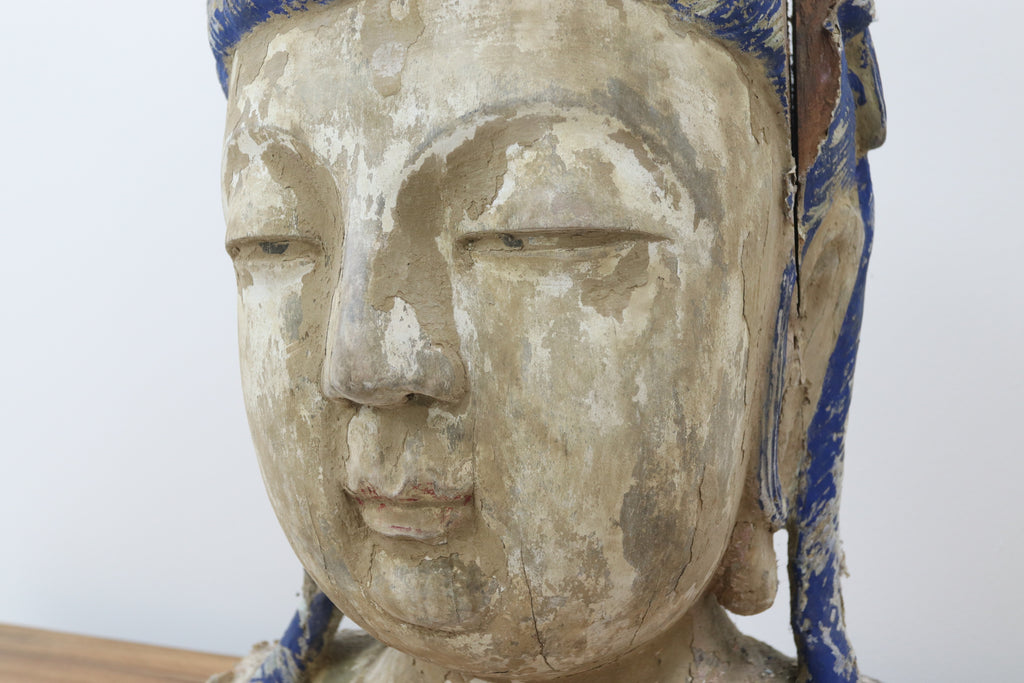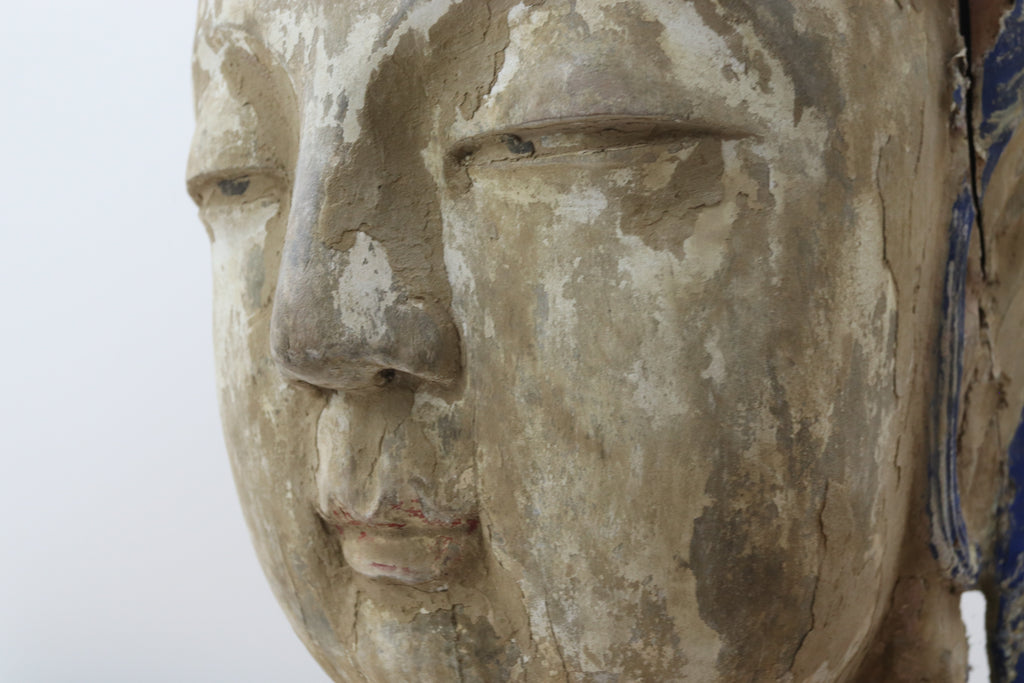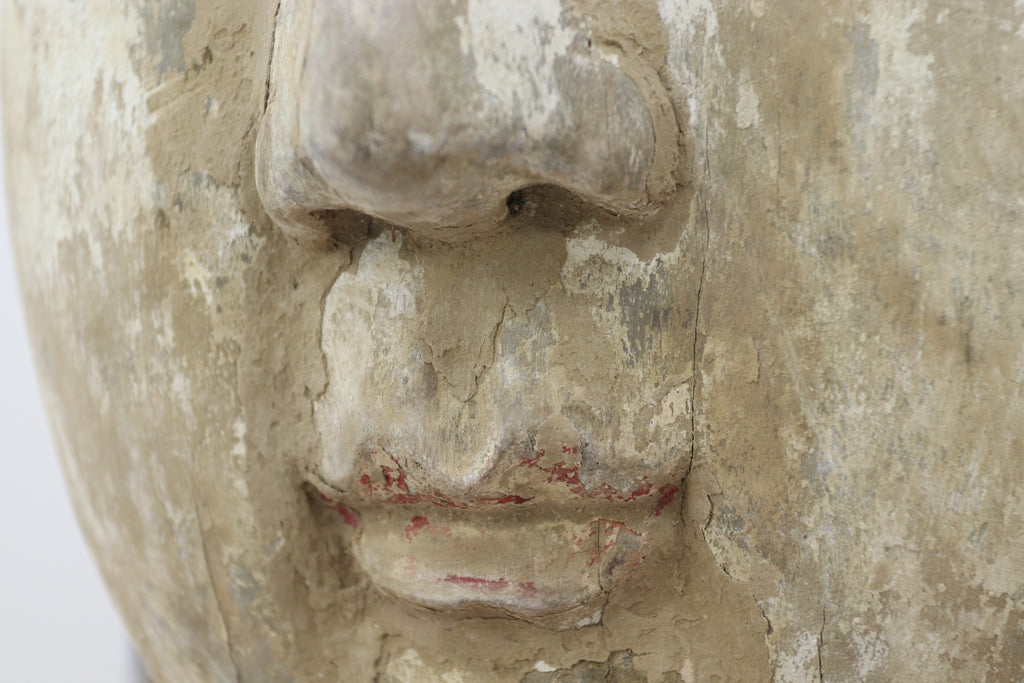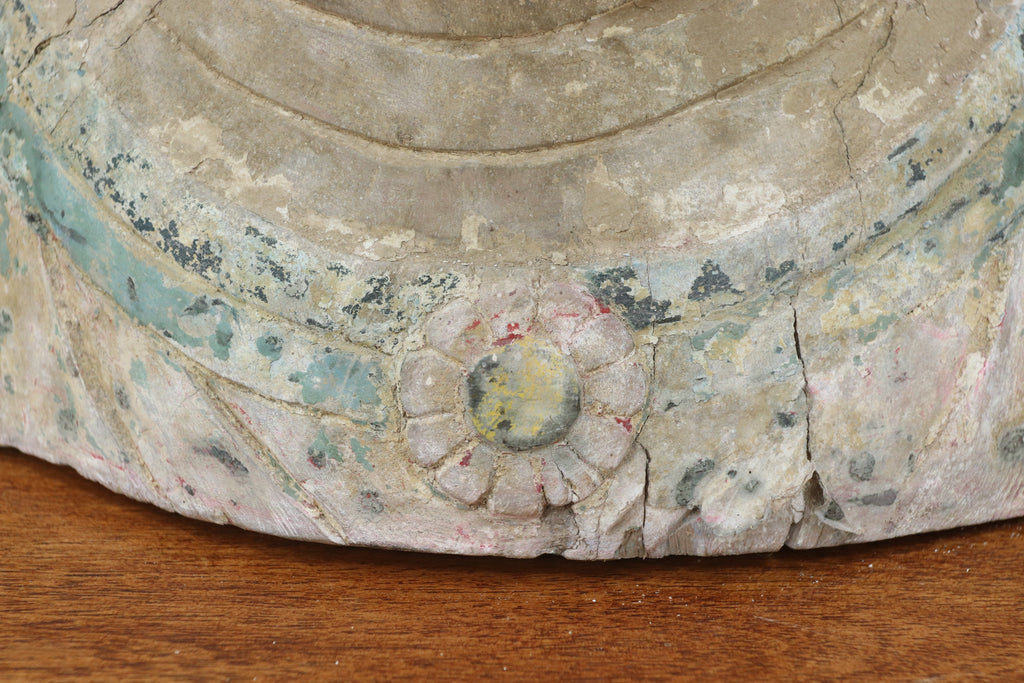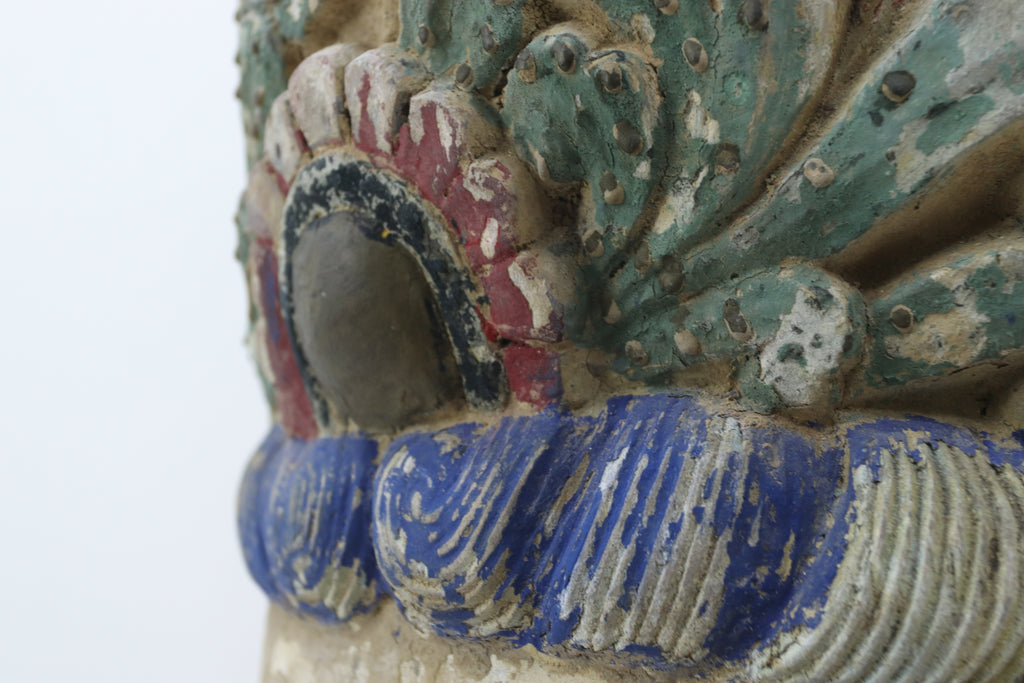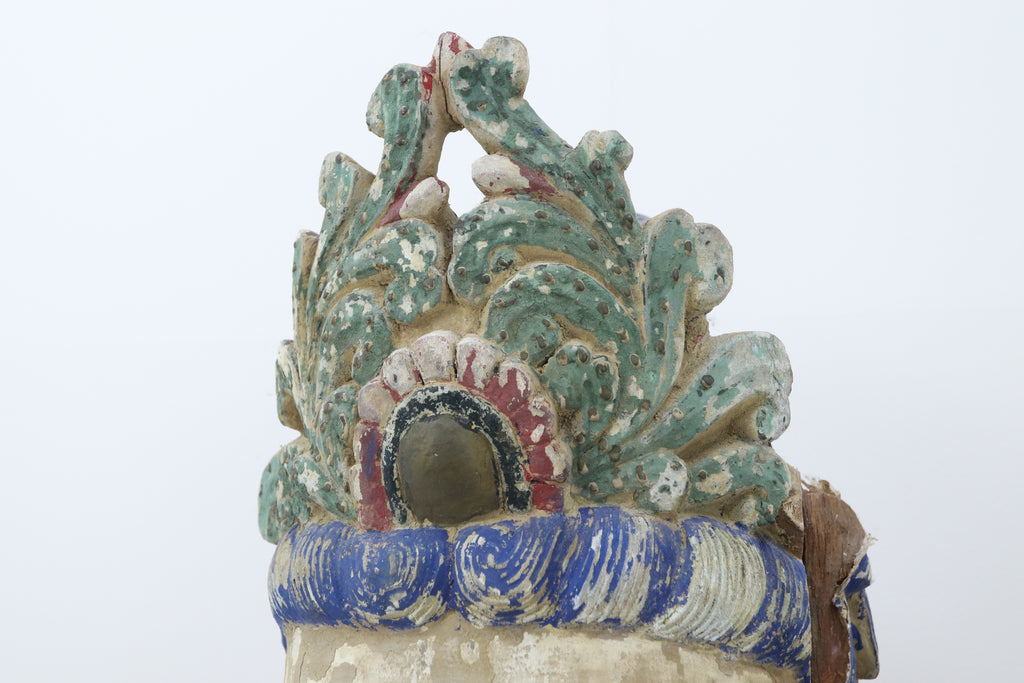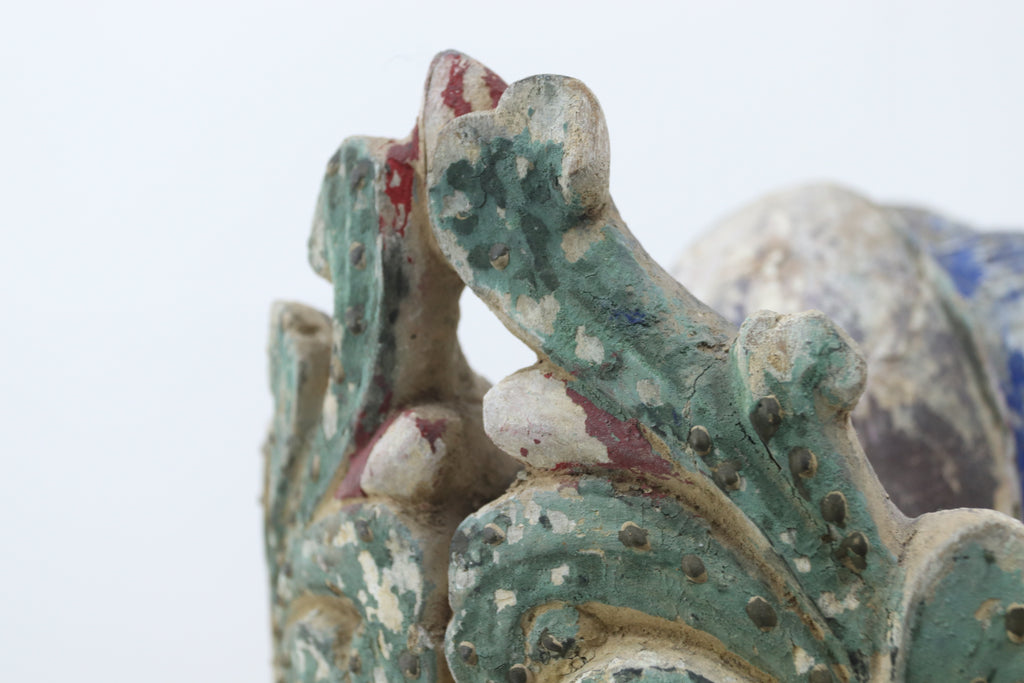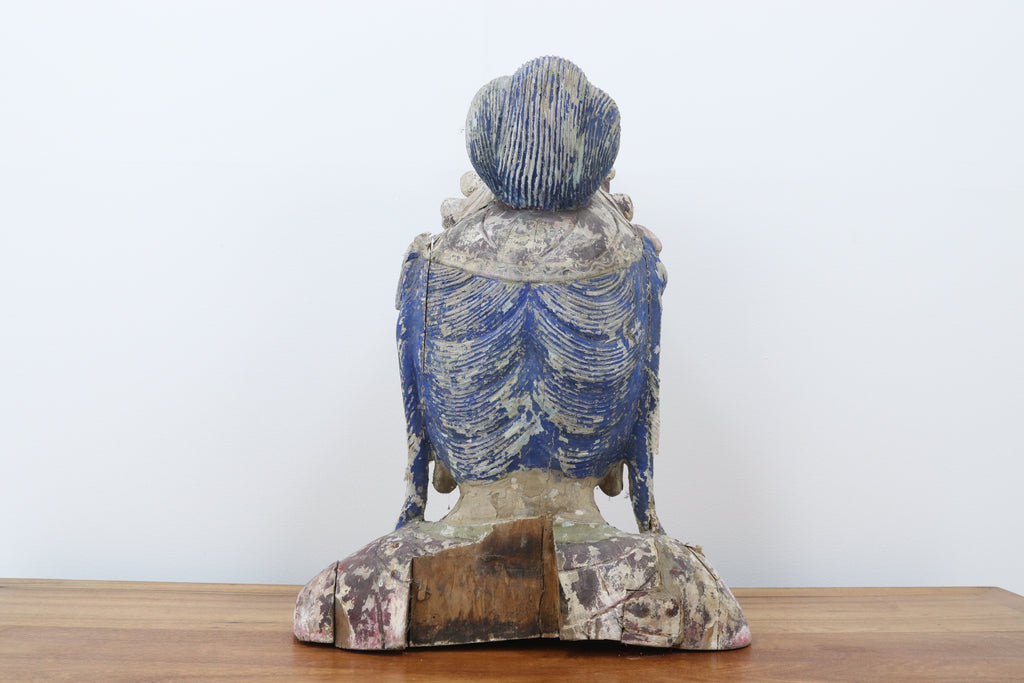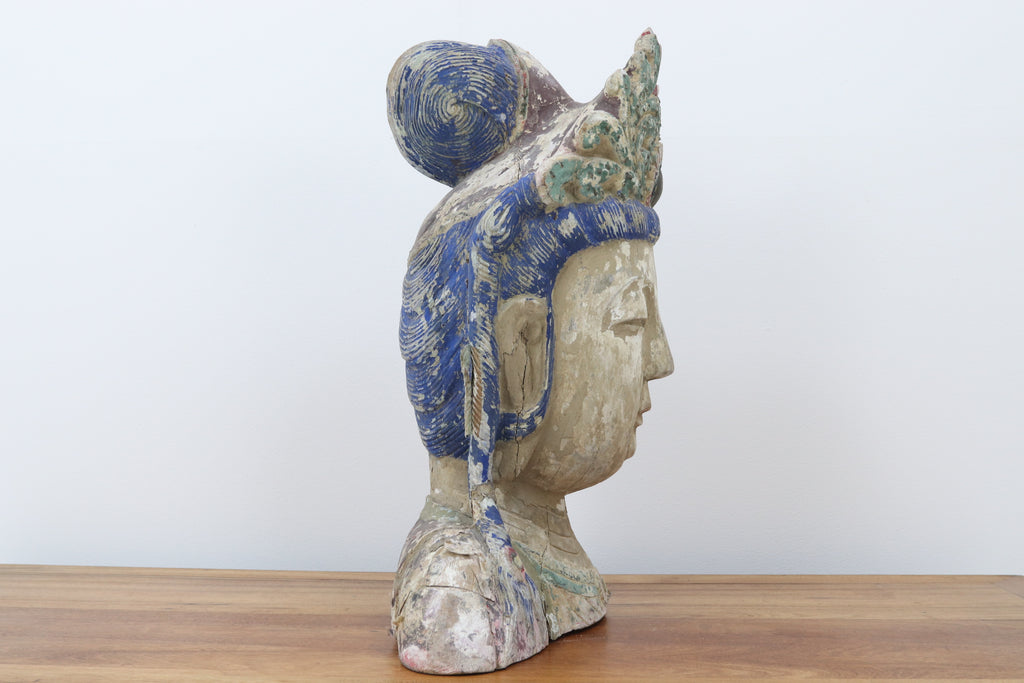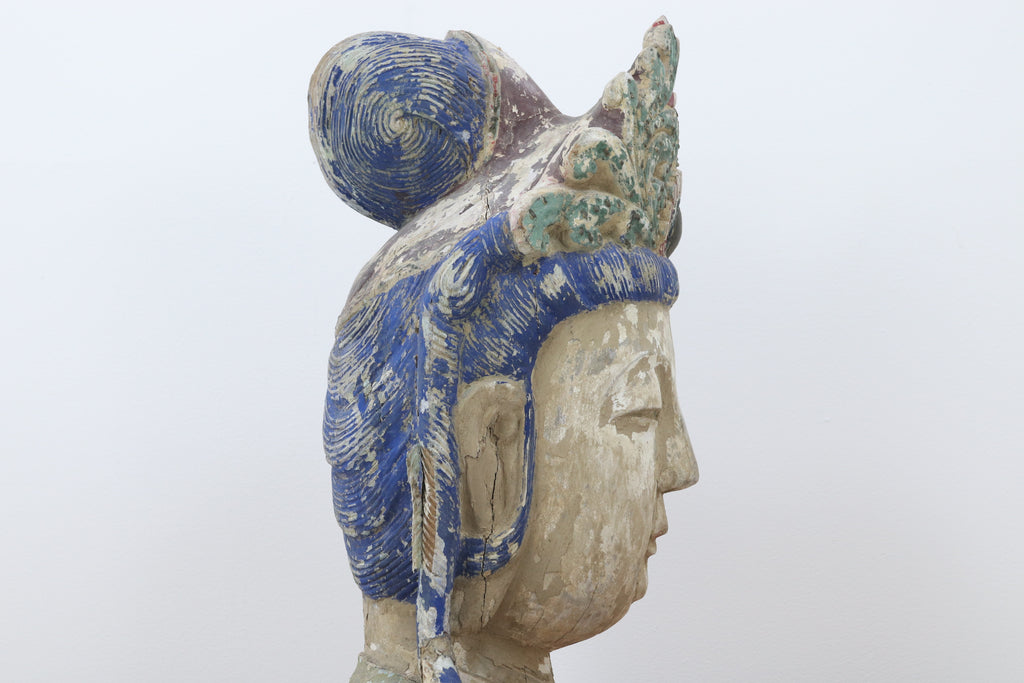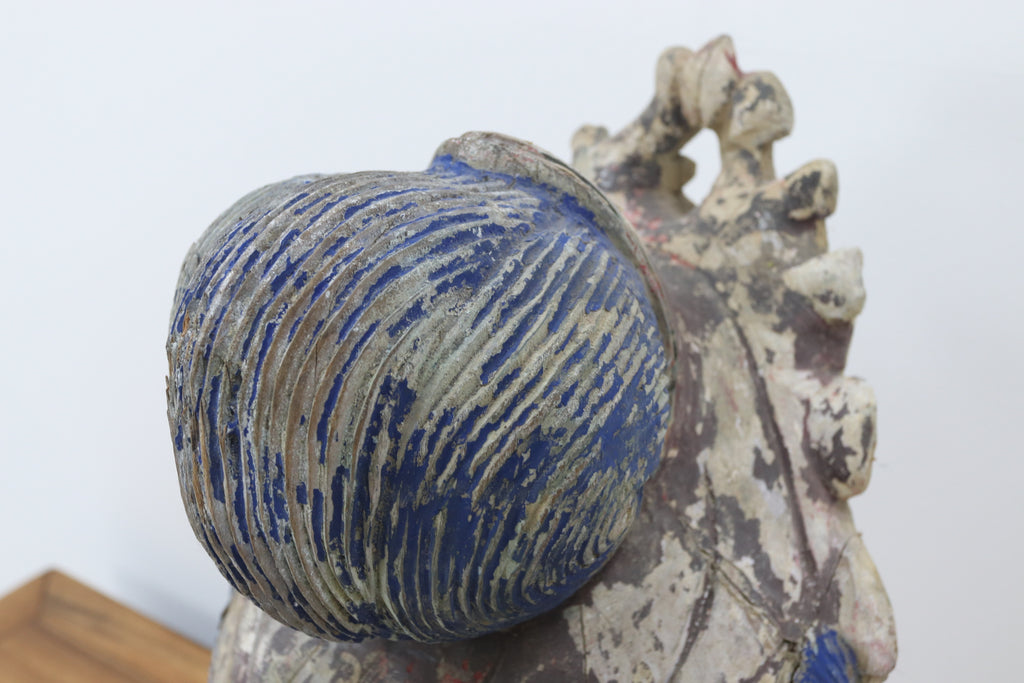 Zoom the image with the mouse
19th Century Antique Guanyin Wooden Buddha Head
This mid-19th-century Antique Guanyin Wooden Buddha Head is a remarkable testament to the exquisite craftsmanship and religious devotion of its era. Carved from solid wood and adorned with vibrant paint, this...
Worldwide Shipping
ask us for a quote
Satisfaction Guaranteed
100% customer happiness
Visit Apeman Interiors
online or in-store
Click & Collect
order online, collect in-store
This mid-19th-century Antique Guanyin Wooden Buddha Head is a remarkable testament to the exquisite craftsmanship and religious devotion of its era. Carved from solid wood and adorned with vibrant paint, this head exudes an air of ancient grandeur, despite the loss of its once-complete body.
Measuring approximately 61cm tall , the Buddha head showcases intricate detailing and delicate features. The artisan skilfully sculpted the serene countenance of Guanyin, the bodhisattva of compassion, known for embodying infinite benevolence and mercy. Guanyin's visage radiates tranquillity, with gently closed eyes, a serene smile, and gracefully arched eyebrows that lend an aura of wisdom and understanding.
The wooden surface of the Buddha head exhibits traces of its original polychrome paint. Faded hues of red, gold, green, and blue still cling to the sculpted contours, suggesting the vivid colour palette that once adorned the entire body. The colours were carefully selected to symbolize spiritual significance, with red representing energy and vitality, gold symbolizing enlightenment and spiritual wealth, green embodying harmony and balance, and blue signifying transcendence and purity.
Evidently, this Guanyin Wooden Buddha Head once held great significance within its former setting. Whether proudly displayed within a cherished home or gracing the halls of a larger, more public structure, it was undoubtedly revered as a prized possession and revered religious artifact. Its presence would have instilled a sense of reverence and devotion in those who beheld it, reminding them of the compassionate qualities embodied by Guanyin.
Though separated from its original body over time, the head stands as a testament to the enduring power of spiritual iconography and the artistic legacy of the past. It carries with it the history and stories of its previous custodians, a tangible link to a bygone era of faith and artistic expression.
This mid-19th-century Antique Guanyin Wooden Buddha Head is not only a captivating relic of the past but also a poignant reminder of the enduring legacy of Buddhism and the human quest for compassion and enlightenment. 
The dimensions of this buddha, are as follows- H - 63cm, L - 51cm, W - 30cm.
Please don't hesitate to get in touch with us if you any further questions.
Price does not include shipping
Please pay via Debit/Credit card/Bank Transfer not Paypal - as we ship via private transporter and cannot provide a tracking number (they will have your contact details)
Please check out our Instagram and Facebook, to keep up to date with our latest finds! (ApemanInteriors)
Shipping
We aim to despatch all items out within 2-5 working days after payment has cleared. This is just a guideline as we can often despatch your item quicker, within 1-2 working days.
Apeman Interiors can offer delivery worldwide however at this point in time our website is for UK only. So if you are outside of the UK please email me referencing the item you are interested in so I can create a shipping quote for you. Delivery rates are for UK Mainland only. Highlands, Islands and Northern Ireland please contact us for a quote. Size and weight restrictions apply to all items.

Below is the rates for the UK

Collection from Apeman Interiors, Nunnington
Free

0kg - 10kg Shipping
£10.00

10kg - 20kg Shipping
£20.00

20kg - 30kg Shipping
£30.00

30kg - 40kg Shipping
£45.00

40kg + Shipping (Private Transporter Delivery)
£60.00

Apeman Interiors can ship worldwide. If you live outside the UK please contact us for a quote, thank you.

Carriage costs are for UK mainland ONLY. Please contact us for delivery costs if outside UK Mainland.

Highlands and Islands are not included within the UK Mainland. * (Post codes IV, HS, KA27-28, KW, PA20-49, PA60-78, PH17-26, PH30-44, PH49-50, ZE PO30, PO34-40, IM, BT & Channel Islands).

We use a range of courier services so as you, as the customer, can get the best delivery prices available. The majority of our items will be sent either MyHermes, UK Mail or Royal Mail (2-4 day delivery depending on location). If your item is larger it will be sent on a pallet on a next working day delivery after dispatch service.

If for any reason we are unable to supply your item to you we will contact you letting you know an approximate lead time.


Returns
If you are not happy with the product we will happily accept returns within 14 days of purchase. Return postage is paid by the buyer unless the reason for the return is our fault.
Before sending the item back please ensure you contact us to let us know the item is on its way. Please ensure the item is wrapped well to ensure the item is not damaged in transit and please also use a tracked courier service.